Cork City Council Retrofitting for Sustainable Smart Social Housing
Cork
Cork City Council's Housing Directorate is implementing a number of smart retrofitting projects across a portion of its 10,500 social houses. These projects aim to explore how retrofitting and the application of smart technologies can reduce carbon emissions, improve the quality of older homes and reduce incidence of fuel poverty. Over half of Cork City Council's social houses were built before 1970, with some dating back to 1886. The retrofitting requirements to ensure these homes remain high quality places to live for tenants and meet national energy efficiency goals are significant. Cork City Council is looking at combining deep energy retrofits and smart energy technologies to meet these targets.
Cork City Council is currently involved in several national and international projects to trial and test smart solutions in housing retrofitting including 3 projects that involve smart energy, measuring, monitoring, and reporting systems, smart energy storage, and renewables.
The first project, forms part of the Southern Assemblies Regional Action plan to measure the benefits of installing measures to improve the energy efficiency of the home. This regional action plan is one of the outputs of the Interreg Europe Empower Project in which Cork City Council is a significant stakeholder. It is funded by the Department of Housing, and Cork City Council. Smart energy efficiency measuring, monitoring, and reporting (EEMMER)systems have been installed in 8 apartments. The EEMMR projects help the housing department to understand the impact of retrofitting activities across several parameters including energy consumption, carbon reduction, room temperature, and can also help in designing predictive maintenance plans to keep the houses at their optimal efficiency. Identifying key performance indicators (KPIs) to measure before and after retrofitting include both internal KPIs such as temperature, C02, heat pump usage, energy and gas consumption and external environmental indicators such as external temperature, pressure, rainfall, solar radiation, wind speed and direction. These KPIs are measured and recorded using a variety of tools including sensor, data loggers, communication devices and digital remote storage and display systems.
The EMMR system on this project started recording data in September 2020 and will continue to do so for 3 years. The apartments will undergo a deep retrofit during this time and the EMMR system will be able to compare the results pre- and post-retrofit. This will help to validate the value and impact of deep retrofit schemes currently being rolled out and will also enable Cork City Council to accurately measure the carbon emission reductions resulting from these works. The EEMMR system was designed by the Cork based electrical consultancy firm CDGA Ltd. and installed by a local contractor ACE Controls Ltd. following a competitive procurement competition.
This image shows the EMMR system and some of the KPIs that are being measured as part of this project.
Cork City Council's Housing Department is engaged in many collaborative European funded projects including MiniStor. MiniStor is a project funded by the European Union's Horizon 2020 research and innovation programme. The MiniStor project aims to design and produce a novel compact integrated thermal storage system to achieve sustainable heating, cooling and electricity storage and reduce the carbon footprint of the home. It is solar driven and utilises a combination of thermochemical (TCM) and phase change materials (PCM) for thermal energy storage (TES). This configuration enables the achievement of considerably higher energy storage density compared to competitive TES systems; i.e. almost 10 times the energy density of water. A lithium-ion battery is used for storing electrical energy.
As part of this project, Cork City Council has installed an innovative home energy management system, lithium-ion battery and the 'MiniStor' innovative solar thermal system in a house constructed in the 1970's. Throughout the demonstration phase, a series of performance KPIs will be measured including, energy efficiency, storage capacity, environmental conditions, etc. The system will be monitored for at least two heating and two cooling seasons (winter and summer). Experience gained during the first year of operation will be used to gather feedback for fine-tuning the system. There is an expected 40% energy reduction predicted for this house following this project.
The home energy management system allows users to get information about the performance of their house and enables the user to control the source of energy for use in the house.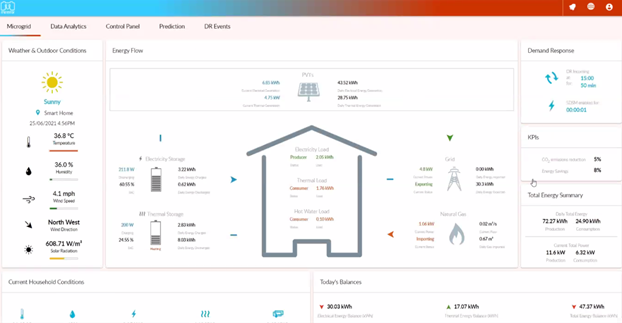 Cork City Council is also a partner in The RED WoLF project (Rethink Electricity Distribution WithOut Load Following) funded by the EU programme Interreg North-West Europe. The three-year RED WoLF project will increase renewables' usage and reduce carbon emissions for homes utilising photovoltaic solar panels and electric storage heating systems. Cork City Council has committed to installing the equipment in ten houses. The heaters will provide heat on demand and will use a unique algorithm that will automatically charge up the heaters using low carbon electricity from the grid. The batteries will store output from the solar panels as well as low-carbon energy (wind/solar) drawn from the national grid at times of low demand. This will be enabled using new 'smart' technology through which the houses hybrid storage systems will be able to communicate with the grid and will remove the mismatch between generation and usage.
A home control system will automatically make decisions on storage based on local energy usage, the price of electricity, weather forecasts and the grid's current CO2 intensity. The purpose of the project is to see how these components interact to reduce energy consumption and greenhouse gas emissions. As a result of this project, it is predicted that up to 20 tonnes of CO2 will be removed from the atmosphere in Cork city each year.