Balbriggan becomes the first location on the east coast to launch free high-speed public Wi-Fi
Dublin Fingal
Balbriggan has become the first location on the east coast to launch free high-speed public Wi-Fi, an initiative designed to transform Ireland's youngest town.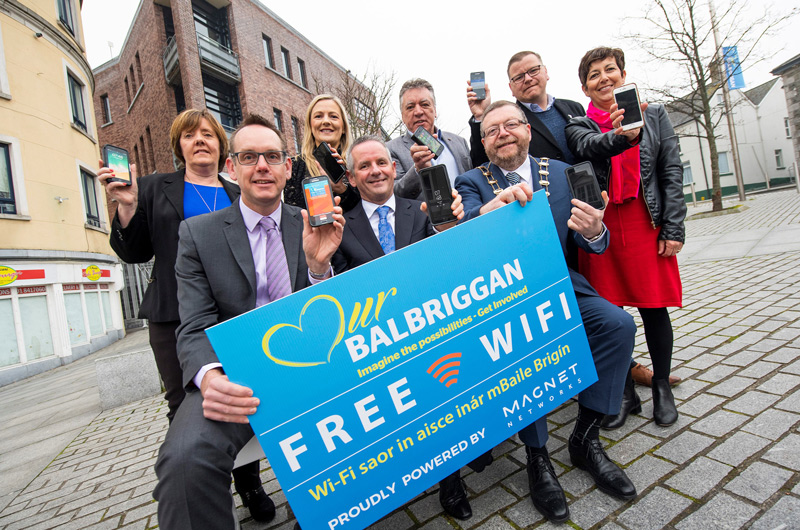 Powered by Magnet Networks, 'Our Balbriggan Free Town Wi-Fi' has made Balbriggan's town centre a free public Wi-Fi zone. Officially launched on 8 April 2019, this is a ground-breaking scheme in which local businesses have come together and agreed to allow Magnet Networks to install access points on their premises in order to provide a free public service. This provides seamless connectivity within the town centre, giving locals and visitors unlimited access to speeds of 100mps. 
Each 'Our Balbriggan Free Town Wi-Fi' access point can handle 250 simultaneous connections, providing a high quality service with web filtering for secure access, and no limits to time or data usage. Each user only needs to register once meaning that visitors and tourists will have free connectivity for their entire stay. 
'Balbriggan Free Town Wi-Fi' is one of several projects in which technology will help enhance the lives of residents and visitors in Balbriggan. Other exciting developments including the rollout of the Smart Bench pilot-supported by The Department of Rural and Community Development.  For more on Smart Benches see here. 
Similarly the recent 'Our Balbriggan' survey of more than 4,000 Balbriggan residents aged over 11, gathered opinions on a suggested list of improvements for the town. Transforming the Main Street and connecting it to a redeveloped Harbour, was the most popular suggestion. 'Our Balbriggan Wi-Fi' will play a major role in putting these changes into practice.